Back
With Jeej Art Capsule: one of a kind, wearable art

For this special collaboration Jeej worked together with master shoemaker Roel van Hoff. Together they came up with a unique concept in which the story of With Jeej is conveyed in a way that is never done before. Titled "With Jeej Art Capsule" is an urban art/sneaker design mega collab, boasting bespoke one of a kind Jordan 1's and a mini artwork fused together in a customized collectible box. The capsule will be sold for €1950 and has a limited edition of only 10 pieces. Each pair will be handmade by size and both sneakers and mini artwork will be one of a kind. Be the first to own a capsule and sign up via: WJ x RvH. First come, first serve!
Master shoemaker Roel van Hoff
Roel van Hoff, founder of the
Sneakersschool
, went from being a collector to a master shoemaker after graduating from the Dutch Shoe Academy. He was the first cobbler to pioneer restoring exclusive Nike's in Europe. His collaborations include Armin van Buuren, Gucci and Jaimie van Heije. When Jeej met Roel at the sneaker convention Sneakerness, an instant connection occurred and plans for a collaboration were made that day.
Reimagining the iconic Nike Jordan 1
Together they transformed a painting into a sneaker creating wearable art. For this purpose, all superior materials have been carefully selected. The most unique feature about the sneaker is that the canvas of a real painting was used as the main material. In other words: an artwork has been cut out and a different piece of art is used for each sneaker. Furthermore, Jeej's signature colors gold and neon pink predominate and they translated the idea of wet paint by adding gleaming material, a dripping swoosh and real paint splatters. By combining craftsmanship with a fine eye for detail, the concept truly transformed into design.
Sustainable mini artwork and collectible box
While most of the cut-out canvas is used for the sneakers, the other parts are reformed into mini artworks that are part of the capsule. Here, the high value of the painting and the thought of sustainability – creating as little waste as possible – were taken into account. Framed with glass and a hanging system, these collectibles will be highly sought after. Each purchaser will become the owner of an exclusive pair of sneakers, mini artwork and a collectible box customized by Jeej.
Related Items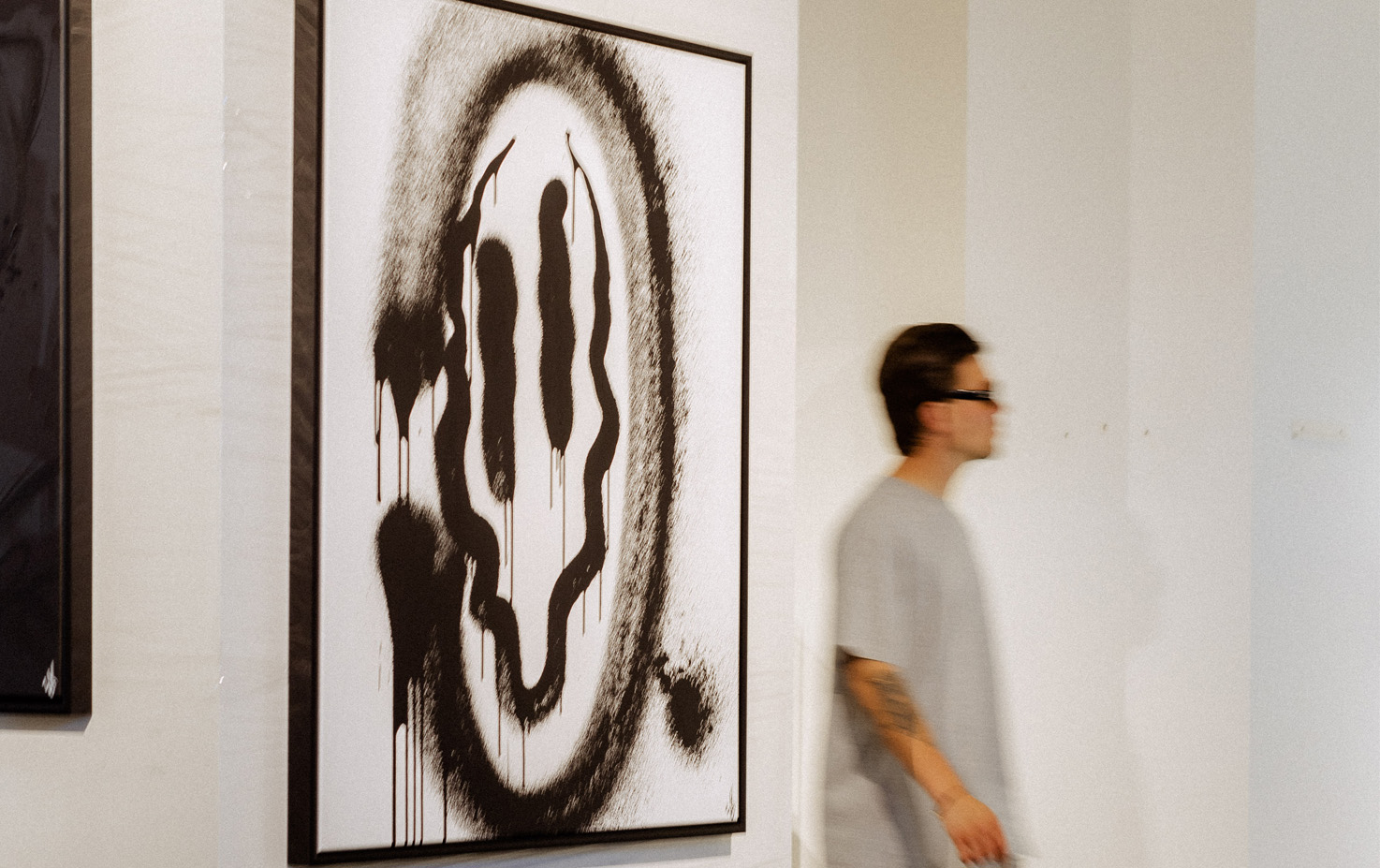 Smile In Disguise Series
Midnight Series
The introduction of sculptures